Why not check into a big hotel?
YOU MIGHT WONDER: Why are condominium vacations so popular in Hawaii?
A condominium vacation is like a stay in a private home. The tradewind cooled Napili Point condominiums are designed for easy living with all the comforts of home, even cable TV. Each unit contains a clothes washer and dryer so you don't need to take so much clothing with you.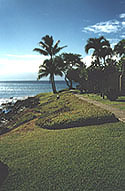 The kitchens are all-electric and are fully equipped (even including a dishwasher and microwave oven). You can cook gourmet meals, have small snacks, or of course, you can ignore the kitchen and dine out. There's even an icemaker for quick tropical drinks. Barbecue grills are conveniently located at Napili Point, ready for your steaks, chicken or fresh island fish.
Many guests feel that being able to fix their own coffee and avoiding a dining room for breakfast makes all the difference in the world. It's this combination of options that complements your whims and satisfies your budget.
WANT TO GO to the beach or the pool? Just grab a towel and your sunscreen. No need to dress up just to get into an elevator or walk through the lobby. Of course, parking is free and you don't have to tip a valet just to get your car each day. And don't forget the daily maid service, so you don't even have to make your own bed.
The beauty that made Hawaii famous ... the blue, sparking Pacific reflecting the color of tropic skies, a crescent-shaped beach of warm, golden sand, cooling tradewinds ... it's all there for the sharing at Napili Bay.
But be warned! Napili Bay is a great escape because life is quiet and serene. The cares and concerns, stresses and strains from your life on the mainland can be left behind as you relax on the fabulous West Coast of Maui.
You won't believe that Waikiki is just 22 jet-minutes away or that the hustle and bustle of the Kaanapali hotels and Lahaina nightlife are just minutes down the road. The choices are yours to make, each day of your vacation can be as different as you want to make it.
What do you get in a Napili Point Resort condo? Click here for a complete description of the features in our 1- and 2-bedroom condos.


Napili Point shelters the
crescent-shaped coral sand
beach on Napili Bay.



---

CONTACT US / INFO: Click Here
SPECIAL RATES:
Web Users Only!

MORE INFO:
Napili Home Page
OFFERED BY CONTEMPO SERVICES
---
© 1995-2017, EagleLink