Your Place in Paradise
OUR CONDOMINIUM SUITES at Napili Point Resort come with all the extras to make your Maui vacation No. 1 in your family album.

Each one- or two-bedroom suite is individually furnished, and no two on the property are alike. Each unit reflects the personality of the private owners and you will be a guest in their vacation home. There are no time shares at Napili Point.

As a World Wide Web user, you can stay in our units at Napili Point for about 15 percent below the official posted rate. That's right. We have a special rate that is for users of the World Wide Web. For more information about our beautiful property please visit our home page.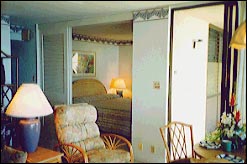 Each suite has a living room, kitchen and bath plus a lanai. In our two-bedroom oceanfront unit the second bedroom is a loft-style bedroom that has its own private bath and dressing area. Ceiling fans and balmy trade winds waft the fresh tropical air into your unit and provide all the cooling you need.
Want to hang out? Enjoy your morning coffee on the lanai watching the whales during their migration. In the late afternoon, the lanai (patio or balcony) makes a wonderful spot to sip a mai-tai and snap photos of the brilliant and beautiful sunsets. Lanais have loungers for sunbathing and tables and chairs for informal, waterfront dining.
Each living room offers a sleeper-sofa plus color TV with expanded cable programming and a video player. Rent a movie, get a bag of popcorn to pop in your microwave oven and get ready to settle in for the night.
ALL THE COMFORTS OF HOME
Even if cooking isn't your idea of a perfect vacation, you will appreciate the kitchen. Each has a full-size kitchen with refrigerator with ice maker, dishwasher, full-size stove and oven, microwave oven, blender, coffee maker and toaster. Of course, there are dishes, silverware, glasses, utensils and pots and pans. The housekeeper won't clean up the kitchen for you, but we make it easy for you to do it yourself. Included in every unit is a dishwasher, towels, dish soap, dishwasher powder and even those little scrubby sponges! You don't have to buy anything just to wash those mai-tai glasses at the end of the day.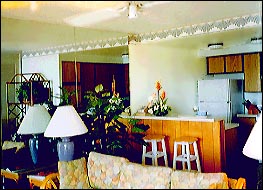 Napili Point Resort also offers oceanside BBQ areas. Select from one of our propane BBQ grills. Or if you are a charcoal purist, buy a bag of briquettes from the store and take your pick of our charcoal grills. BBQ detail is not so bad when you can watch the sun slowly sink into the Pacific Ocean with a cold beer, glass of wine or your own blend of mai-tai in your hand.
You're on vacation, so why make the beds and take out the trash? The Napili Point Resort housekeeper will come in each day to do just that plus replace the towels and clean the bathrooms.
Need to do a little laundry? You have a washer and dryer right in your condominium. No need to overpack and bring a change of clothes for each leisurely day of your stay at Napili Point. Just pack the essentials and wash and dry them in the comfort of your own unit.
REFRESHING TRADE WINDS ... AND WAVES WASHING THE SHORE
That's it. Napili Point Resort is not a high-rise condominium complex. There are no long, dark corridors to walk through to get to an elevator. When you want to go to the beach, you step out the door, walk down the foot-path and you are there. When you want a cup of coffee, it can be made in your own kitchen. When you want fresh air, you can open a window and feel the trade winds caress your face.
The two oceanside freshwater pools are just steps from your unit. Loungers and chairs are provided and you can soak up the sun's warming rays while lounging on the deck or grassy areas around the pools. Picture yourself relaxing by the pool with a good book, a cold beverage from your own kitchen, listening to the ocean's waves caressing the shoreline.
It's another tough day in paradise. Are you up to the challenge?
THIS WILL BE THE MAUI VACATION YOU HAVE BEEN DREAMING ABOUT
Again, each of our condo suites has a full-size kitchen, a lanai, a laundry area, cable TV and video players. Plus that daily housekeeping service makes Napili Point Resort your own place in paradise.
Please click here for a listing of the amenities and features of the one and two bedroom units at Napili Point.
If you're accustomed to staying in hotels and you have never rented a condo on Maui, click here for information on why so many people choose a "condo vacation" when they visit Hawaii.
---

CONTACT US / INFO: Click Here
SPECIAL RATES:
Web Users Only!

MORE INFO:
Napili Home Page
OFFERED BY CONTEMPO SERVICES
---
©1995-2016, EagleLink