Dining Opportunities
FIRST-TIME visitors to Maui may be surprised to find loads of restaurants, many of them world class. There are so many, it may be difficult to sample the best during your stay on West Maui. To help you, here is just a sampling of the variety of restaurants in the area surrounding Napili Point.
Maui has its share of national chain restaurant franchises. Many are the same ones that are within miles of your mainland home so we don't have to tell you more about them. This list features locally owned restaurants worthy of your consideration while you are visiting Napili Point.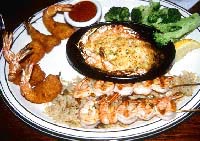 First, make reservations. It is best to call a day ahead to ensure the time you prefer.

Second, browse through the island guides and restaurant brochures. (Sample menus are in the Napili Point front office.) Also, many restaurants offer early-bird specials that can be especially useful when traveling with children who, because of the time change, will want to eat extra early. Most specials are advertised, or ask when you call to make your reservation.

Third, the word of warning. These are our opinions. Keep in mind the usual "restaurant reviewer" caution that the ownership, chefs or prices may change or that the top chef might have the night off when you visit. Dining out can be an experience, we hope it will be pleasurable one.

Remember, as a World Wide Web user, you can stay in our units at Napili Point for about 15 percent below the official posted rate. That's right. We have a special rate that is for users of the World Wide Web. For more information about our beautiful property please visit our home page.

Monday Night at Napili Point
5 to 6 p.m. – Manager's complimentary Mai-Tai party at the large pool. Non-alcoholic punch also available. Usually there is an entertainer.

Restaurants
KIMO'S – Lahaina – An old favorite but reservations are a must. Even so, be prepared to wait 10 to 15 minutes. Food is always good and the service is prompt and friendly. If you are a prime rib fan, this IS the place (30 oz. bone-in portion, great quality). You can't go wrong with any of the steaks or fresh fish. Dinners from about $20 (fresh fish from about $25).

HULA GRILL – Kaanapali – About 10 minutes away. A great place for Hawaiian Regional Cuisine (That means superior quality ingredients prepared with the taste of Asian, Latin and Island flavors.) with a wide variety of fish dishes and nightly specials in the main restaurant. For lighter fare try the very casual Barefoot Bar – primarily outdoors with sand underfoot – sandwiches, salads, gourmet pizza, appetizers – with live entertainment in the evenings. Prices from about $12. The more traditional restaurant features a selection of seafood, chicken and beef prepared with flair and pizzazz. The great food and service make this a hit in our books. Entrees from about $25, a la carte. Reservations suggested for main restaurant.
ROY'S KAANAPALI – In the Kaanapali Golf Club House near the entrance to the Kaanapali resort – Rated among the top 10 restaurants on the islands. No view and the atmosphere is fair but you go to Roy's for the food. Roy Yamaguchi is a key player in the Hawaiian Regional Cuisine movement and his Maui location tops it with attentive wait staff. Chocolate souffle is a great dessert (it's not large, so chocoholics will want their own). It must be ordered along with the entrees. Reservations needed. Relatively expensive a la carte menu, entrees from about $30. Dinner for two will run $90-125, food only. Luxurious wine menu.
LAHAINA GRILL – Lahaina – Bistro-style, attentive service. This restaurant aims to please with their creative menu. The Kalua duck is hard to beat. Exquisite presentation. Save room for dessert. Reservations a must, a la carte menu prices, entrees are $30 and up. Casual dressy. Stroll through the nearby art galleries after dinner. Formerly called David Paul's Lahaina Grill.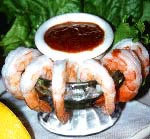 REILLEY'S – Kahana – Known for their aged-prime beef steaks. Small, select, seasonal menu features beef, fresh seafood, chicken and duck entrees. Open for dinner only. Yes, this is the same Reilley's that used to be at the Kaanapali North Golf Course.
THE GAZEBO – For breakfast or lunch without having to prepare it yourself, walk over and try the Gazebo restaurant that overlooks the ocean next door to Napili Point. Pancakes (famous for their macademia nut, pineapple and banana pancakes), omelets, burgers, sandwiches, salads – all are good – unbeatable view. Beach wear. Prices $10 to $15.
LAHAINA PIZZA COMPANY – Front Street, Lahaina – Deep dish pizza, sandwiches, salads and pasta are featured on this menu. Open for both lunch and dinner. Great 2nd floor location in the heart of Lahaina, across from the seawall, offers ocean views while eating. Live music most evenings. From around $15.
CHICO'S CANTINA – Another good choice if you like Mexican food. The food is good, the portions are large and the prices are reasonable. Their Cinco de Mayo celebration is legendary. Dinners from $10.

Luau
There are several commercial luaus on West Maui. The Feast at LeLe is known for both the good show and good food. Another extremely popular beachside show is the Old Lahaina Luau on the ocean side of Front Street across from the Lahaina Cannery shopping center (the one with the Safeway). It is considered by many to be the most authentic with all of the entertainment reflecting Hawiian heritage and culture. Very good Hawaiian and American food, buffet-style, a good show, open bar and a wonderful setting. Sells out well in advance, make your plans early. Has even been featured on Emeril Live on the TV Food Network.

Sunday Brunch
THE WESTIN at Kaanapali – More omelets, waffles, sushi, fruit, pastry and plenty of hot and cold entrees. Includes champagne, about $30. Both in garden settings with the ocean beyond. Reservations recommended.
RITZ CARLTON – Kapalua – Champagne Holiday brunch with the attentiveness you would expect at the Ritz, around $85. Only on holidays!

Breakfast Buffet
SWAN COURT – Hyatt Regency Hotel – Lots of hot breakfast entrees, pancakes and French toast, sweet rolls, fresh fruit and a lovely lagoon setting. Breakfast served daily. Reservations not necessary Monday through Saturday. About $25.
---

CONTACT US / INFO: Click Here
SPECIAL RATES: Web Users Only!
MORE INFO: Napili Home Page

OFFERED BY CONTEMPO SERVICES


---
© 1995-2017, EagleLink